The many cuisines in India are exquisite, and one that is notable is the food of Rajasthan.
Rajasthan is known as" the Land of King because of its royal past. A trip to this beautiful state is a stunning glimpse of the architecture of the various empires which influenced it. In addition, it offers delicious delicacies that are unique to different cities.
The cuisine of Rajasthan is one of the rare dishes that boast an endless array of dishes, including tangy drinks, spicy starters, delicious bread, and sabzis with the delights like achars papad and Chhach. Further, don't ignore the delicate desserts and the deliciously crunchy treats that will melt in your mouth immediately!
Rajasthan Food and Common Ingredients
The Rajasthan traditional food is influenced by its rich heritage and arid climatic conditions, and the lack of fresh vegetables and fruits distinguishes their food. Further, some of the most common Rajasthan food recipe ingredients include beans, lentils, gram flour, corn, millet, bajra, barley bread, and dairy products (esp. Ghee). There is a greater preference for vegetarian meals, and however, various kinds of meat dishes are typical also.
If you're thinking of a trip to the lively state shortly, make a note of sure of Rajasthan food items that are adored and delicious Rajasthani food items you need to taste of. Also, to ensure that you are willing to experience the best of the state and taste the authentic food of Rajasthan, you can book Rajasthan tour packages with LIH Travels. The tour operators will manage everything from accommodation to things to do in Rajasthan and also the best places to taste the famous food of Rajasthan.
The Top 8 Food Of Rajasthan That Every Tourist Must Taste
1. The Traditional Rajasthani Dal Bati Churma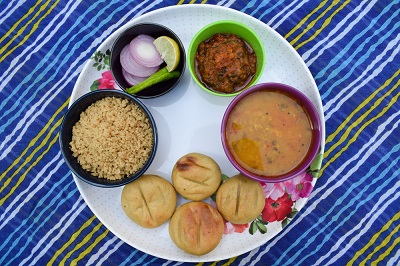 The Rajasthan traditional food, dal bati churma, is a must-taste for every first-time traveller. Made from whole wheat flour and roasted over coals, batis is circular dumplings featuring a crispy exterior yet soft from the inner. The dal comprises seasonings, spices and other types of lentils that have been steeped in water overnight. The churma consists of bati that has been crushed and combined with ghee, jaggery, or sugar. Baked bati, dal, and churma comprise a whole delicious meal.
2. Red Meat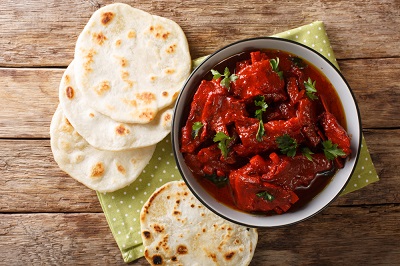 Laal Maas, considered one of the best non-veg dishes/food of Rajasthan, is meat curry cooked with a yoghurt-based base and many strong spices, such as red Mathania chillies. The red chillies give the dish its vibrant hue and spicy flavour. However, you can have the spiciness level that suits your taste buds. Additionally, you may have this dish alongside aromatic rice or any flatbread.
Any non-veg lover would fall for this delicious, spicy, lip-smacking curry.
3. Ker Sangri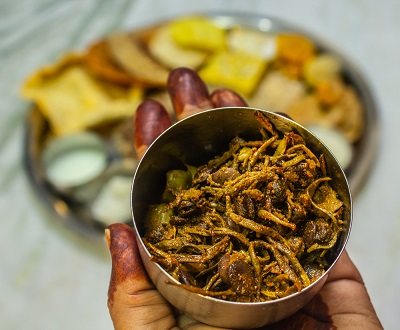 Ker Sangri, the food of Rajasthan, are pickles made from a mixture of Ker, a pungent wildberry, and Sangri, Khejri trees dried beans — both are simmered with an assortment of local ingredients. Moreover, this classic spicy side dish will spice up any Rajasthani thali.
Although this recipe may not seem incredibly delicious, its exquisite flavours make it an absolute must-try. It goes well with bajra roti.
4. Kachoris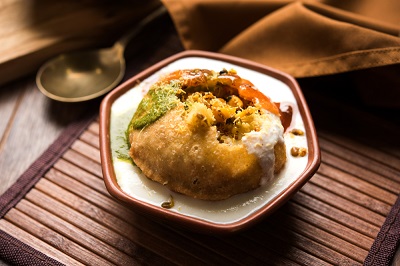 Everyone must be well aware of this fried delicacy or famous street food; kachoris are well-known across India. Yet the Rajasthani versions are popular. Hence, you shouldn't miss this famous food of Rajasthan. So, the Rajasthani versions include pyaaz kachoris that are savoury in taste and mawa kachori, which is a sweet delight, sounds interesting, right? So, put this food of Rajasthan on your list. 
5. Rajasthani Curry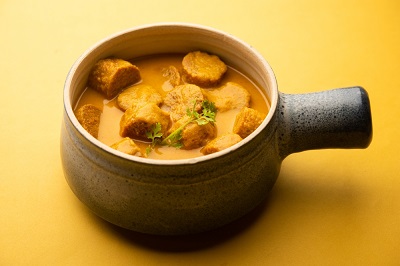 The Rajasthani variant of kadhi is a dish consisting of sour yoghurt. The besan pakoras (flour fritters) take this meal to a whole different level of delectability. Typically eaten with rice or steaming freshly cooked bajra rotis, this meal will satisfy your inner soul. Moreover, the best part is that it is as healthful, light, and delicious, making it ideal for someone looking for a light meal. After devouring the flavour of Rajasthani kadhi, we are sure you will surely order it again. Join the Food Blogs community and embark on a journey of culinary discovery.
6. Fried Chicken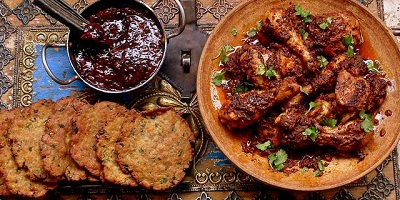 Offered with flatbreads, bhuna kukda, the Rajasthan best food has a variety of fragrant spices and herbs famous in Rajasthan. So, for preparing this famous food of Rajasthan, the chicken slices are covered with a mixture of seasonings and marinated for almost two hours so that the spices and flavours soak up well in the chicken, making them tender and juicy while serving. Following the marination, the meat is then cooked till it tenderises. The aroma emerging from serving the bhuna kukda dish encourages you to indulge in this regal Rajasthani delicacy. If you're not a vegetarian, this meal must be at the top of your to-eat list.
7. Mohan Thal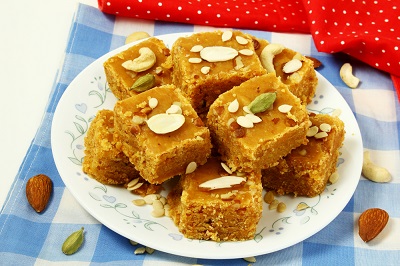 Mohan thal, a besan dessert imbued with a dash of cardamom and garnished with nuts and almonds, is perfect for a sweet tooth. This Rajasthani delicacy's melt-in-your-mouth quality is why many people like it. It is not wrong to mention that you would ask Mohan thal again after tasting it.
8. Ghevar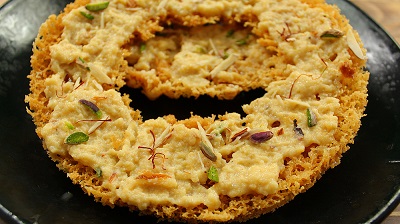 And last, a delectable dessert that will satisfy even the most demanding diners! This disc-shaped dessert made with flour, milk, ghee, and sugar syrup, adorned with dried fruits, will leave you speechless. So, choose between malai ghevar, plain ghevar or mawa ghevar to conclude your dinner with this Rajasthani speciality. Further, ghevar is the staple of every Indian festivity. So, ditch your diet goals (at least for the day) and enjoy this sweet food of Rajasthan. 
Moreover, every sweet tooth would like to indulge in other ranges of sweets, like the Gujia, a must-sweet prepared during Holi and the delicious Rajasthan traditional food, Balushahi.
Also Read: What is an urgent visa for India?
Final Say
With ample quantities of ghee, an assortment of fragrant flavourings, and tantalising tastes, these Rajasthani recipes will quickly become your favourite. So when on a trip to Rajasthan, don't count on calories. Instead, keep savouring the food of Rajasthan and also check out the Rajasthan tour packages by LIH Travels. Let the tour operators curate an amazing luxury tour to Rajasthan.