Everyone wants to design their home in a unique way and for that, a lot of searching and knowledge is required. A compound wall design is something that will represent your house so you should design it beautifully. We understand that it is not an easy task and there are other factors to consider while designing one, so we are here to help.
Best Materials for Latest Designed Compound Wall:
Picture From pinterest.com
For the people, who don't want to use the same old materials like basic concrete for their compound wall design, here are some best alternatives:
Stone Tiles:
Binding agents and cement plasters are used to place these stones on the compound wall, they come in different colors and can be placed easily. You can cut these stones in different geometrical shapes or patterns which will provide an amazing view of the wall.
Fiber or PVC boards:
For 3D patterns, more time and energy are required so if you don't want that then you can use these boards for designing your compound wall. Also, their finishing is so smooth which looks really nice that gives an incredible look to your wall.
Screws are used to install them on the wall, you can also cut these sheets in different shapes and then use them. They are available in numerous designs and colors so you can easily choose according to your liking.
Planks of Wood:
Its use on compound walls and existing compound walls is increasing day by day and it looks so beautiful. Always go for high-quality woods and there are numerous shades available in the market so there won't occur any problem during selection.
Bricks:
Bricks could easily be used in different angles and patterns that's why many people prefer using bricks for their compound wall design pattern. You can seal exposed bricks with a weather-protective sealant which helps in keeping them safe for a long time.
Sheets of Metal:
Metal sheets could be used on the compound walls in different forms, you can cut them in different shapes and sizes and can use them as a grill on the wall. Readymade sheets are also available in the market however steel is a better option because iron gets rusted over time so you need to coat it with paint in order to save it from exposure to the atmosphere.
Modern Compound Walls for your Home: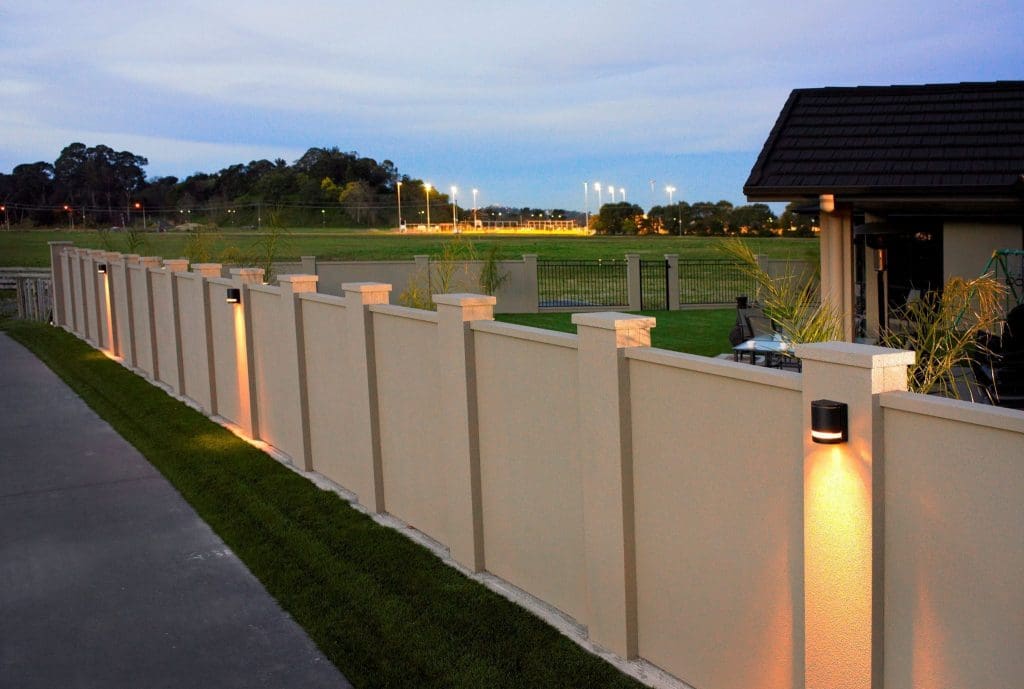 Picture From happho.com
Some people like simple compound wall design patterns while others love modern and stylish ones, some are concerned about security and some are looking for the easiest method for their compound wall design and construction, so here are some options for both of them, you can find the best suitable option for your home.
A Masonry compound wall:
If you want to get rid of horn sounds and pollution then use this design for your compound wall. It is widely used because of its durability and reliability. You can use fly ash or red clay bricks as well as steel and laterite stones for its construction. Masonry compound walls also ensure your security and privacy.
The compound wall of Cladding material:
Marbles, Shera panels, and Vitreous tiles are all cladding materials and are usually utilized on masonry walls to make your compound wall eye-catching and they are commonly used for bungalows. Cladding compound walls enhance the look of your home by making it more appealing.
An Ornamental compound wall:
This modern-style compound wall looks so nice and it is manufactured by using steel grills along with masonry walls, the grills are usually used for security purposes to make it more appealing and it provides security as well. You can also mould metal to create beautiful designs of grills according to your choices.
Precast compound wall:
A combination of concrete and steel is used in the making of precast compound walls and they can be easily installed because they are made in the industry so it does not take much of your time. The installation of these compound walls will cost less than the masonry ones while providing a more aesthetic and modern look.
Compound wall for security:
You can choose to construct and design these walls if you are looking for high security but usually, these are constructed for government offices and military bases and as you know for some people, security is the top priority so that's why we suggested this one too. These walls are made very thick with metal wiring above them to ensure security.
Best Ideas for Latest Compound wall design:
We understand that you want to design your compound wall in a unique way so here are some ideas for the latest and most stylish compound wall design pattern.
You can make your compound wall look beautiful and aesthetic by painting a mural on it such as floral or abstract prints. It is one of the best creative yet simple compound wall design patterns.

Adding a water feature inside or outside the wall produces a calm effect and it looks so great by providing a dreamy effect.

One of the most used methods to design a compound wall is a vertical garden, it is the best option for nature lovers and it is also great for your health, above all, it looks more stylish.

Inserting niche looks very creative and artistic, it comes pre-made so you can easily utilize it. You can add anything but stucco is mostly used in modern compound walls.

In order to give your wall a dramatic feel, you can use accent lightning which produces gorgeous effects on the wall.
Wrapping Up:
There are many materials, patterns, and designs available in the market for designing a compound wall, we hope that after reading this blog your confusion is cleared and now it is easy for you to decide on the latest compound wall designs and materials that are suitable for your home.
Visit Here urbanlymodern.com also for more interesting blogs